Mom of One and Having Fun and Loves 2 Read teamed up with SWANKY MOMS CLUB to gladly present May Day Giveaway! We have been working really hard to bring you over $1,200 in cash and prizes! Hooray! There are a little over 30 blogs participating in the giveaway... as we wanted everyone to enjoy this! Our prizes may be a bit random, but who cares?! We got a little bit of something for everyone in this giveaway. Kids, Babies, Moms and Dads will all benefit from this. Excited? We sure are! This giveaway has been in the works for a while now and able to launch! :) On to the prizes!
Our Grand Prize is worth $579 and Features: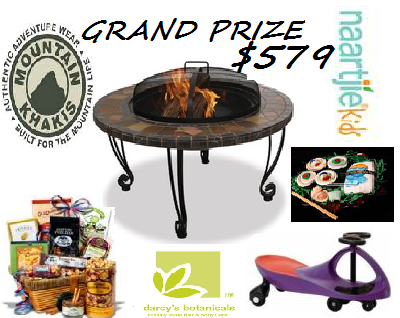 $184 Marble FirePit Table from
AllBackyardFun.Com
.
This is a beautiful woodburning fire pit that everyone can love and enjoy! Get together in your backyard for some family fun. This is a great addition that is both decorative and functional. AllBackyardfun.com is great for all your backyard needs. They sell outdoor rugs, gas
firepits
, outdoor lounges and more.
$100 to
Naartjie Kids
.
Naartjie Kids, the original name in fun clothing sizes 0-10 is proudly dresses children in unique, affordable, fun & functional clothing, accessories & footwear. They have many items you can easily mix and match. Many lovely summer styles and fabrics. Read Mom Of One and Having Fun's Review Here.
$75 to
MountainKhakis.Com
MK Soul Statement- "
Inside us all exists an adventurous soul - a wild heart that is called from nature to live authentically and free from modern society. For many outdoor and mountain enthusiasts pure freedom and rugged adventure has become a way of life. Mountain Khakis were developed specifically for this lifestyle." Read Mom Of One and Having Fun's Review Here.
$60 Snack Basket-Classic From
GourmetGiftbaskets.com
Their best-selling snack gift basket comes with a host of award-winning gourmet snack foods that are sure to satisfy any taste bud! Designed to be perfect for one but enough for a group, all the items inside are share-friendly and utterly delicious! They'll love the raspberry honey mustard pretzel dip, gourmet dipping pretzels, key lime white chocolate chip cookies, almond pecan crunch, peanuts, trail mix, buttered pecan crunch, peanut roll, organic coconut bar and cheese biscuits. Read Loves 2 Read's
Review Here
.
$60
Plasma Car
in Yellow or Purple. Cannot win in Alaska and Hawaii.
Plasma Car is for kids ages 3 and up. Plasmart avoids making electronic toys and toys that are complicated to understand or operate. This is a toy that kids of all ages can understand and enjoy.
$50-
BittyBambino
, Unique Baby Gift Sets and Diaper Cakes
Bitty Bambino is offering one lucky reader a Customized DiaperCake. These are NOT YOUR TYPICAL diaper cakes. She makes them with more than just diapers and shapes them uniquely. She does motorcycles, airplanes, pies, cribs and more. Even a SUSHI Diaper cake! Very Different! Read Mom Of One and Having Fun's
Review Here
.
$50 -
Darcy's Botanicals
natural hair care products and more. This shop offers Organic Hair Care products for curly or straight hair including moisturizers, conditioners, styling and finishing products, as well as body oils, perfumes, gift sets and more.
Prize pack 2 is worth up to $305 and features: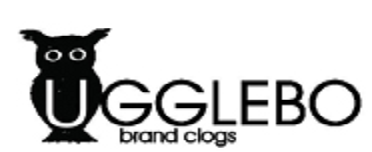 $109-$260
UggleboClogs.com
is giving any any pair of clogs and boots, including these lovely Philly Style Boots!This does exclude the high boots and the shearling boots.These are a lovely add to any women's wardrobe. Read Mom Of One and Having Fun's
Review Here
.
$100-
PajamaShoppe.Com
is giving away $100 to use on anything in the store! Men, you can spoil your wife with a surprise teddy gram. Good gift for anniversary or to make up after a fight. Women, you can spoil your husband with some
silk pajamas
. Also, they have some spa sets and towel wraps. Just all around a great way to spoil your spouse or yourself!
$30-
Dale and Thomas
Any Occasion Six-Bag Sampler. S

ampler has six footlong bags of gourmet popcorn in

Chocolate Overload or

This and That.
$15-Lotion Sampler from Schmidt's Beauty, Etsy shop. Schmidt's Beauty offers
artisanal body care products inspired by nature's bounty, with a range of products that are safe and effective for the whole family. Schmidt's is committed to a mission of supporting your daily hygiene routine in a way that is holistic and sustainably-minded.
Prize 3 is worth $169 and Features:
$48-
Lisa Salazar Art Decor
Etsy Shop, is giving away a canvas original acrylic painting titled "Shining Through" and size 11x14. Please be advised if you win this, remove the glass when framing. I highly suggest you view her shop. She has many beautiful scenic paintings.
$25-
An Unexpected Journey
, another Etsy shop. They are giving you a $25 gift card to use on anything in their vintage store! Grab yourself some household items, a picnic basket or whatever else you find.
$25-
ParadiseBathBoutique.com
is giving you $25 to use on any bath products you may enjoy. Paradise Bath Boutique is homemade and you can enjoy quite a few good scents. Read Mom Of One and Having Fun's
Review Here
.
$25-
Heavenly Scent Soy Candles
is giving away $25 to use in their store. Allow yourselves to have a romantic candle light dinner.
$25- Clutch from
Grey Cricket Studios
Etsy Shop. The bird and nest applique is one of a kind and makes for a cheerful accessory. Made with 100% cotton fabric. The closure is a mother of pearl snap. This is an original Grey Cricket Studios design. Size: 9 inches across the top 6 1/4 inches deep 11 1/2 inches wide at the base 9 inch long strap Care: Spot Clean only by hand.
$21-
Sweet Dee's
Etsy Shop is giving away one yummy Brownie Sampler Basket-Small. You get to choose: Brownie Lovers, Rocky Road to Peanut Butter Goodness, Sweet Sticky Salty Brownie Delight, Butterscotch Pecan Bars, Gloppy Bars or Caramel Blondies, or Chocolate Raspberry Delight Bar. You can choose one flavor or eight. You get eight brownies each measuring 4" x 2".
Prize 4 is worth $127 and Features:
$21-
Decals for the Wall
is offering a wall decal. But not just any wall decal. This wall decal is special. The winner will be working with Decals for the Wall in creating their own decal. Not only this, but once it is created it will go into production! Your creation will be sold in their store. How cool is that? For More on Decals for the Wall, Read Mom of One and Having Fun's
Review Here
.
$29-
Jusami.com
is offering up a Dino Girl T-shirt.
$16-
Jewel of the Lion
Etsy shop is offering one pound of fudge! Winner's choice, can pick up to four delicious flavors. Also Jewel of the Lion is offering a DISCOUNT right now for any one reading this...Use JEWEL at checkout for 15% off. Wondering how delicious this really is? Well Mom of One and Having Fun claims in her review it had her and her husband fighting for it! Read Mom of One and Having Fun's
Review Here
.
$16-
My Blue Snowflake
Etsy shop has offered up a Girl's charm that can be put on any pendant style and made in winner's choice of colors/design, name, and style.
$14-
Knotted Fibers
offered up her homemade, special blend laundry soap. This is very good for people with soap allergies. She also sells bath products and knitted patterns. Read Mom of One and Fun's
Review Here
.
$14-
Paradise Bath Boutique
, trio gift set from their Etsy Shop. Any scent available. It's up to the reader. They were kind enough to offer up two prizes in this giveaway. Read Mom of One and Having Fun's
Review Here
.
$10-
Shadora.com
white topaz sterling silver earrings. Lovely gift for mom or wife.
$8-
Boogie wipes
. Happily wipe your kids' noses with no fuss.
Prize 5- World Wide- CASH
$$$60$$$
Thanks to our Bloggers!
Mom of One and Having Fun
,
Loves 2 Read
,
This Girl's No Expert
,
The Crazy Nuts Mom
,
Three Ghost Friends
,
Swanky Moms Club
,
Once Upon A Book
,
My Couportiera
,
Krazy Coupon Club
, ,
Giveaway Promote
,
Oliver's Labels - By Jennifer
,
Beauty Marks The Spot Reviews
,
Military Wives Saving
,
Wrapping to Feel Better
,
Like a Bump on a Blog
,
Prolific Shopping
,
Cyber Connect Bloggers
,
Sweeping The USA
,
Show Me The Deals Blog
,
My Photopage
,
The Frugal Free Gal
,
Single Mom Saving Money
,
Tatum's Family Reviews
,
Craft Yourself
,
Country Life 4 Me
,
Saving Cent by Cent
,
2 Dorks in Love
and others!
a Rafflecopter giveaway
Disclaimer: Paypal Cash is World Wide (void in quebec). All other giveaway prizes are US Only. (Plasmacar void in Alaska and Hawaii.) *SWANKY MOMS CLUB is not responsible for prizing. All sponsors are expected to uphold their promise by shipping. Please be honest with all entries as we will be verifying. Verifying entries may take as many as 3 days. If you are announced a winner you have 48hrs to respond. After those 48hrs you forfeit all rights to the prize, and another winner will be chosen. **SWANKY MOMS CLUB CANNOT REIMBURSE YOU FOR THE PRIZE PROMISED** Please Contact
momofonehavingfun@gmail.com
and she will do all in her power to help you receive the prize you won.
----------------------
Hi! I'm Ciera, the face behind SwankyMomsClub.com. I live in Dothan, Alabama with my husband, three children and our mischievous dog Harley. To read more about me and my family just click the
Meet Ciera
tab at the top of the page! Thanks for stopping by and be sure to subscribe to our site using Google Connect (top left) or Networked Blogs (top right). Do you have something totally fabulous that you think is worth blogging about?
Email me
, I want to hear about it. Do you own a business? Check out how you can
advertise
with us!